Work is work, pleasure is pleasure. Even inside the house. If all this is new, follow our instruction manual so you don't lose your mind. Or the good mood.
Our life seems full of contradictions. In the past few years, we have probably spent whole weeks sighing about the Friday that would bring us the possibility to enjoy 48 hours straight in the comfort of home. Now that we are stuck in our villa or apartment, we sigh for the day when we can move around freely again. In fact, it is not a contradiction, it is a sign of balance.
Until now, most of us had our routine divided between work, leisure, family and household tasks. The Covid-19 pandemic, which arrived in Portugal on 2 March, changed almost everything - and that balance too. So now, the biggest challenge is to combine personal and professional life within the same space, without losing one's mind. And without suddenly considering it a problem to be day after day with those we love the most. Don't feel guilty: it seems easy, but it is very difficult.
Related article: How to protect your home from the virus?
That is why LUXIMOS Christie's, whose collaborators from Porto and Algarve offices continue to accompany the clients with the recommended distances, has created a list of rules based on our own experience.
Related article: Porto and Algarve are tax havens for foreign retirees
Like many of those who read us, we were also used to having the whole house to ourselves during the day. Suddenly, having to share our work territory with those who are not working - like children, for example - is obviously a setback. Sharing it with those who are also working is no less of a difficult task. In large families, more than a setback, it seems a provocation. Especially at a time when we are all particularly anxious.
So, calm down and read our tips and accept a preliminary suggestion: even at home, work is work and pleasure is pleasure.
If you can keep to this rule, it's halfway done.
1. Define schedules and routines
Define the part of the house where you'll be working. And never change it. That will be your "outside" place. Never go there in your pyjamas, without a bath or a breakfast. Perform all the usual rituals as if you were going to your real work. If there is more than one person teleworking at home, and there is no opportunity for everyone to have their own space, share your schedules. It is essential that the start, breaks and end of the day are synchronized. If you have to make phone calls, concentrate most of them on a particular time so as not to disturb the work of the other.
2. Do not procrastinate
If you think the day grows just because you're at home, you're roundly mistaken. It's true that you save time because you no longer travel or talk to colleagues or have meetings. But make no mistake, working at home requires strict discipline. There is an endless amount of distraction that only those who are used to making home their place of work can understand. If the experience is completely new to you, make a list of daily tasks and complete them, never leave them for the next day. Procrastination will be your greatest sin.
3. Don't be interrupted by children
For children, especially if they are very young, it can be difficult to understand that even with their parents at home, they cannot be with them all the time.
Never interrupt work for household tasks or to attend to children. The family can have lunch together every day, which is probably a novelty - and a privilege. And you can even invest two hours in that lunch. What you can't do is to interfere with each other's tasks during the time you've agreed to work. It is important that everyone respects everyone's space and time. Remember that you are not alone, in Portugal there are almost a million parents at home.
4. Setting a ceiling for television and social networks
Social networks are totally forbidden (unless your work depends on them). Working with the TV on is even more prohibited. At this exceptional time in our lives, information is more important than ever. But you don't have to be on all the time, or watch the succession of live broadcasts, or be on top of the breaking news. Do the experiment: every exception you make, even though you promise yourself it will only be a five-minute exception, will turn into an hour. Do you have an hour to lose?
5. Physical exercise
If you were already doing some physical exercise, continue. If you weren't, now is a good time to start. Save at least 20 minutes of your day to work out. Think that those twenty minutes will balance your mood, your concentration and help drain the repressed energy. If you have the courage, start and end the day with exercise. Set a goal, which may well be this: by the end of the pandemic, I will have lost five kilos.
6. Tidiness and organization above all
If you don't leave your coat on the back of your office chair, your computer turned on, your paper basket full, or important paperwork in sight, don't do it in your own home either. Make sure you leave the grounds clean and tidy for the next day. This discipline will help you organize your tasks each day.
7. The sofa is not an office
You can choose any room in the house to work with the exception of the sofa. Never mix leisure areas with work areas. Otherwise, mentally you will not be able to separate work from rest. If you answer emails on the sofa, for example, where will you rest?
8. Knowing how to stop
Remember that our daily energy is limited. Do not take any phone calls before the day begins, or after you have closed your day. Don't take them or make them, of course. Knowing how to turn off is a basic rule of rest. And that's what allows you, every day, to start over with a fresh head.
9. Important applications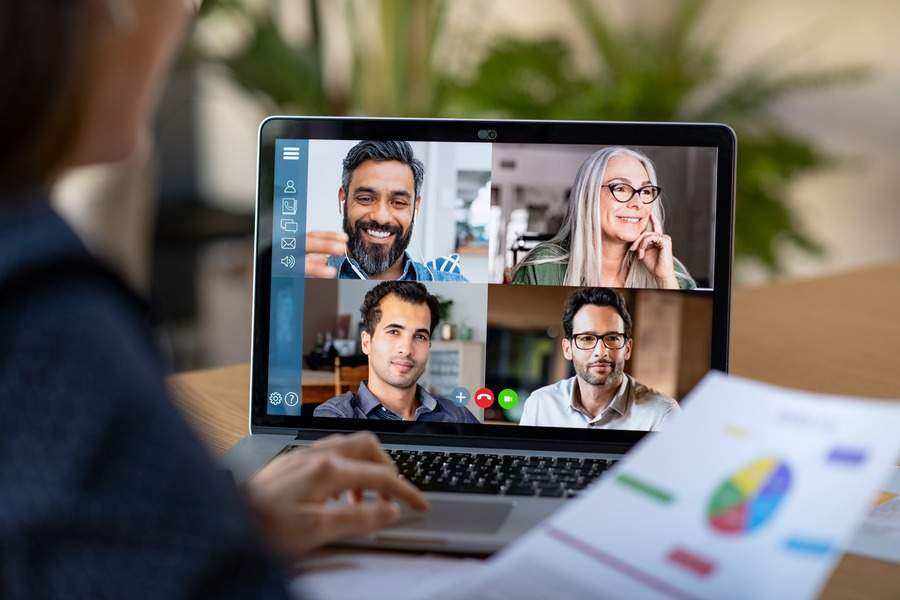 The working meetings are not over, nor is contact with colleagues or staff. That's why there are three effective applications that can help you solve your problems: Microsoft Teams, which allows you to share information in real time (in Word, Powerpoint or Excel) and make status points with an extended team; Zoom, which allows group calls or video calls sharing the screen, so that everyone is watching the same; and the best known Google Suite, which allows sharing calendar, mailbox and documents, as well as storing articles. An extra, for family and friends use House party, which has now won a new élan. In practice, it is as if all members were inside the same house, being able to do the same things.
10. Humility and tolerance
We are all tired of a situation that is absolutely new and unexpected, and we are all getting on our nerves. Don't blame yourself or others. Allow yourself one bad day a week and never forget to apologize. And have the humility to recognize that each person has his or her own circumstance, but the moment is bad for everyone. Tolerance is the key word for success.