The demand for houses with swimming pools has soared in Portugal in the last year. It also grew, both in Porto and in the Algarve, the demand for land with space where it is possible to build swimming pools. The explanation is obvious: the pandemic threw people indoors, but summer means that families have to keep coming together, and children have to keep having fun. And nothing delights children and young people more than a swimming pool. However, as the World Health Organization reminds us every year, it is essential not to turn a good thing into a bad thing. And therefore, do not forget, that every 60 minutes of every day throughout the world, 42 people lose their lives by drowning. Remembering this in the middle of summer, when we only dream of water, heat and holidays, may feel a little like an anti-climax, but being aware of reality can help to avoid much greater misfortune.
Related: Discover the 8 largest swimming pools in the world
A large proportion of deaths occur among children under the age of five, especially among boys. All it takes is three minutes and 30 centimetres of water for a child of this age to run a fatal risk. The best way to prevent an accident is permanent adult supervision, which is never dispensable. LUXIMOS Christie's International Real Estate joins all families in their concern for the well-being of all. And remember that safety is the watchword. For this reason, we are absolutely keen to share 10 fundamental rules that you should follow in the swimming pool at home or in any other pool, public or private. Do not allow a dream to become a nightmare. Teach your children to be responsible and to respect the rules.
1. Know how to swim
If you already have or are thinking of buying a house with a pool, make sure everyone can swim. If you have young children, get them swimming before you declare open season on your home. And remember that swimming should only be done at a depth where you feel comfortable and safe. And even then, nothing dispenses the presence of an adult when children are in the water.
2. Forbidden to run, eat and jump
It is not a myth: if the child has eaten, it should not swim. First, he or she must digest. Swimming with a full stomach can cause digestive stops and other inconveniences. He should also not run, the floors around swimming pools are invariably slippery. Children should only enter and leave the pool via the stairs. Diving head first into the pool is also forbidden, both for children and adults. Not only because of the already mentioned issue of the slippery floor, but also to avoid colliding with other divers and especially hitting your head on the bottom. Pushing, playing catch or simulating drowning must be expressly forbidden by parents. Fighting and horseplay in the pool are also not recommended.
3. Fence
the pool area and close access with a gate that cannot be opened by a child. Good practice recommends a fence with a minimum height of 110 cm, a maximum of 8 cm between the floor and the bottom of the fence and a maximum of 10 cm between vertical elements. The fence cannot be climbable and should have some transparency so that the pool enclosure is visible from the outside. It is never too much to repeat that no child should, under any circumstances, remain in the pool area unattended, even if it is not a sunny day and even if all the fencing is in compliance.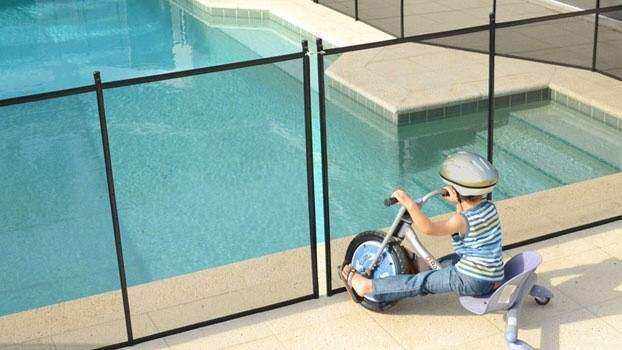 Related: Praia da Falésia is one of the 25 best beaches in the world
4. Be careful with floating objects
It is of particular importance to be careful with the quantity and type of objects that are in the pool. Never forget that these objects may prevent or hinder the emersion process of any person, but especially the smallest ones. It is fundamental to remove them at the end of each game and not only at the end of the day. Never throw clothes, towels or other similar objects into the water.
5. Keep the stairs clear
Keep the pool accesses clear so that whoever is in the pool can get out easily, without added effort.
6. Pay close attention to suction
Pool water is constantly being filtered. There is a system that takes the water to the filter through holes scattered around the pool walls and bottom. Sometimes, depending on the systems, these suction mechanisms can suck the child's hair and keep them submerged, preventing them from getting out of the water. Control these suction systems very well.

7. Beware of underwater traps
Some utensils can trap feet, hands or even children underwater. Some ladders, for example, have gaps or grids that can trap a child. Therefore, always pay attention to the details of your pool. If you're just building it now, get information from experts to avoid these pitfalls.
8. Essential buoys
The buoys, armbands and life-jackets do not dispense with vigilance, but their use can make the difference between life and death. These aids should be appropriate for the child's weight and comply with safety standards. There are many products on the market that are easily confused with buoyancy aids, such as inflatable mattresses, and which are very dangerous: they turn over easily and can be blown away by the wind or waves.
9. Keeping the pool always clean and healthy
Teach your child to shower before entering the pool. Do not keep food or drink in the vicinity of the pool, or encourage meals in that area. In addition to potentially dirtying the water, glasses increase the risk of broken glass at the bottom of the pool.
10. Nearby rescue equipment
Always have basic lifeguard equipment near the pool. Buoys and extension cords are mandatory. Have a phone nearby and, in case of an accident, call 911 and give precise directions to your location.
Related: Porto is one of the best cities in the world to live telecommuting