Ricardo Costa, CEO of LUXIMOS Christie's, takes Portuguese luxury real estate to Aspen, Colorado, the city where Christie's brings together affiliates from over 50 countries.
After a two-year break due to the Covid-19 pandemic, Christie's International Real Estate is once again welcoming exclusive affiliates from around the world to a luxurious venue in the exclusive city of Aspen, Colorado, in the United States of America, for a face-to-face event. The annual conference - which is the most important and prestigious of the Christie's International Real Estate affiliate network, linked to the auction house founded in 1766 in the United Kingdom - takes place on April 4 and 5. Two days focused on luxury, business and future, which serve to discuss the latest trends in real estate and share best management practices, exchanging experiences, knowledge and contacts with luxury real estate leaders from around the world. The city of Aspen was not chosen at random. This important North American territory is known worldwide for its climate and its four mountains (Snowmass, Buttermilk, Aspen Highlands and Aspen Mountain), which provide the best practice of winter sports, such as skiing and snowboarding, which is why it has established itself as a destination of choice for celebrities who decide to buy a house there.
Ricardo Costa, CEO of LUXIMOS Christie's International Real Estate, who in 2018 was appointed global Lifestyle specialist by Christie's, was invited to the conference to demonstrate why Portugal continues to be one of the main bets of international investors looking for premium properties. The properties of this award-winning Portuguese consulting agency - it was voted the best in the world in 2014 ("Affiliate of the year 2014") -, with offices in Porto and the Algarve, have seen a sustained increase in demand over the last few years, with no drop recorded during the long pandemic period. In that sense, and contrary to what was seen in other countries, Portugal was once again a revelation in terms of the desires of European, as well as American, Brazilian and Asian investors. It is not surprising, therefore, that the world press chose Portugal as the best country in the world to live in after the pandemic.
Related Article: World press elects Portugal to live after the pandemic
Repeatedly called upon by the national media to explain why Porto, the North of Portugal and the paradisiacal Golden Triangle (Vale do Lobo, Quinta do Lago and Vilamoura) lead the market trends, the 50-year-old economist, who has spent almost his entire professional career in the international market, has given several interviews in which he explains the virtues of living in a country with a mild climate, with 3000 hours of sunshine per year and 850 km of beaches bathed by the Atlantic Ocean, but also the competitive advantages of making an investment in a country with high levels of security and high standards of quality of life, with an enviable geographical position, which facilitates access to any point in Europe and the world, and with an attractive package of tax benefits for non-regular residents and retirees.
"In my segment, which is the luxury market, I can say that in 2020 we managed to end the year with a 10% increase in sales volume. This year, we are already above that," he told ECO, a Portuguese website specialised in Economics. When questioned about the typology of the houses and the perception that there has been a change in the type of demand, Ricardo Costa, who was the first Portuguese to join the select group of Christie's consultants, dismissed the issue. "In the high-end segment, those who wanted the luxury apartment already wanted it with good balconies, good views, already wanted a penthouse with a pool. That hasn't changed."
Apart from the volume of business with foreigners, which already represents 60% of LUXIMOS' turnover, at Christie's annual conference, the businessman, who has led the real estate market in Portugal since 2004, will also anticipate market trends in 2022, at a time when unexpectedly the world has changed again. "During the pandemic period, and even before, the quality market had a behaviour of growth. It cannot be said, therefore, that the premium sector was affected, as other sectors of our society unfortunately were. This is due to the fact that real estate assets are a safe haven currency. It is also due to external demand, which in Portugal was very important in consolidating this movement," he told CNN Portugal.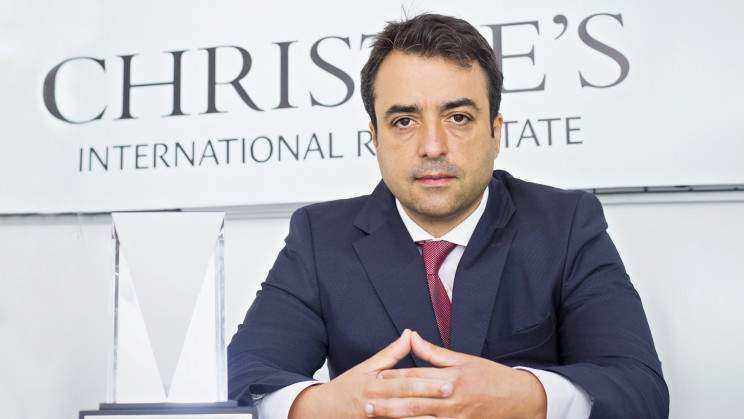 Related Article: "Real estate assets are a safe haven currency"
Meet other guest speakers at the conference
Among the speakers at Christie's annual conference is Steve McKee, co-founder of McKee Wallwork + Company (MWC), a renowned branding company, twice awarded Agency of the Year by Advertising Age. Steve McKee, with three decades of experience as a marketing strategist and author of the best-seller "Power Branding", will talk about the power of brands, helping to reflect on the best practices to adopt in brand management and on the tools to create competitive advantages in the market. Also confirmed is Alli McCartney, considered by Forbes magazine as the 33rd best consultant in New York in 2022. A founding partner of UBS Private Wealth Management in New York, she benefits from more than 25 years of experience as a financial consultant in the field of private wealth management. She is primarily dedicated to helping women of all classes and ages enhance their individual financial freedom and make their collective dreams come true. Some people call her the "Financial Feminist".
Steve Murray has worked in residential real estate for 44 years. He is currently a senior consultant for REAL Trends, the nation's leading research and trends company. He is also a partner in RTC/REAL Trends Consulting Inc. He has co-authored four books on real estate agency valuation and co-authored two works on the past, present and future of real estate transactions. His talk will be subordinated to growth through real estate acquisition. Steve Zick, who has been with Christie's since 2004, has a Chicago-based agency covering a 13-state residential area. He works with estate managers, private collectors, museums and dealers, coordinating valuations and raising properties for auctions held in New York, London and Paris, as well as for international sales websites. He will talk about the importance of disclosed content.
Mike Del Prete is a world expert in real estate technology and a researcher at the University of Colorado. His opinions and analysis are heard by leaders around the world, making him one of the most sought-after real estate consultants. He too will be speaking on the current state of real estate. Adam Brown will bring the inevitable universe of crypto and NFTs to the conference (he and his team did the first NFT of a property in the US), revealing a bit of what the near future might look like. And Lance Allred, the first deaf player in NBA history, will bring a no less important subject: how to learn to be perseverant.
Related Article: Investments in the real estate market in times of COVID-19