The architect Souto de Moura designed one of the most luxurious condos in Porto. It's a park, with apartments and villas, inside the heart of the city, in Antas.
Eduardo Souto de Moura, Portuguese architect from Porto, Pritzker in 2011 and Gold Lion at the 2018 Venice Architecture Biennale, has just designed the most luxurious private condominium to be born in one of the most iconic areas of Porto - Antas. What until now was a privilege for very few people - to inhabit a house designed by the man who also designed, among so many other prize-winning works, the Braga Municipal Stadium for the Euro 2004 - will now become a prerogative of 27 families. The development will be completed in the second half of 2020.
From a supreme author, with a remarkable work, who claims that "we should not expect anything from the 21st century, because it is the 21st century that expects everything from us", one could not expect less than a unique piece of work, thought out in the smallest detail to combine past, present and future. Souto de Moura is a visionary, pioneer in the use of several materials and technologies and in the boldness of shapes, but he is also a profound devotee of the city's immense history. The stunning Quinta da Casa Amarela, near Praça Velásquez, represents this: a building that honours Porto's rural, noble and romantic past, but impregnated with the architect's DNA, to serve the needs of contemporary life with an unquestionable quality.
LUXIMOS Christie's presents this closed condominium, inserted in a 16000 m2 property, endowed with a heated indoor pool, with solar panels and direct light, Turkish bath, party room and extensive gardens, not having the slightest resemblance to common closed condominiums. It results from the rehabilitation of an old building and is more like a farm than a building. In fact, it is a palace, which lodges apartments and villas in a perfect symbiosis. Souto de Moura's gift for the 21st century is, therefore, this work of art in the shape of a park within the city of Porto.
Built on Avenida dos Combatentes, it consists of a residential complex designed to suit various family requests. Quinta da Casa Amarela is composed of two residential complexes: in the restored buildings we find the apartments, with 1, 2, 3 or 4 bedrooms and areas that vary between 118 m2 and 377 m2; in the new buildings we find the single-family villas, with 3, 4 or 5 bedrooms and areas ranging between 220 m2 and 315 m2. All houses respect comfort, privacy, security and sustainability.
Quinta da Casa Amarela, whose imposing architectural features have been respected, throwing us into the romantic period, encourages fraternization among the inhabitants with a non-invasive formula, and promotes the integration of the residents in the surrounding environment, without prejudice to security. In this sense, it kept the coat of arms (historically, a symbol of courage and bravery), the majestic entrance gate and the three-metre high wall. But it also preserved the romantic cave, the artificial lake and the original design of the gardens that, at that time, merged with the fields for agricultural activities.
In addition, a pedestrian circuit was projected, next to the outer fence wall, which serves to access homes and parking spaces, but also as a fitness circuit, about 600 metres long.
Condominium finishes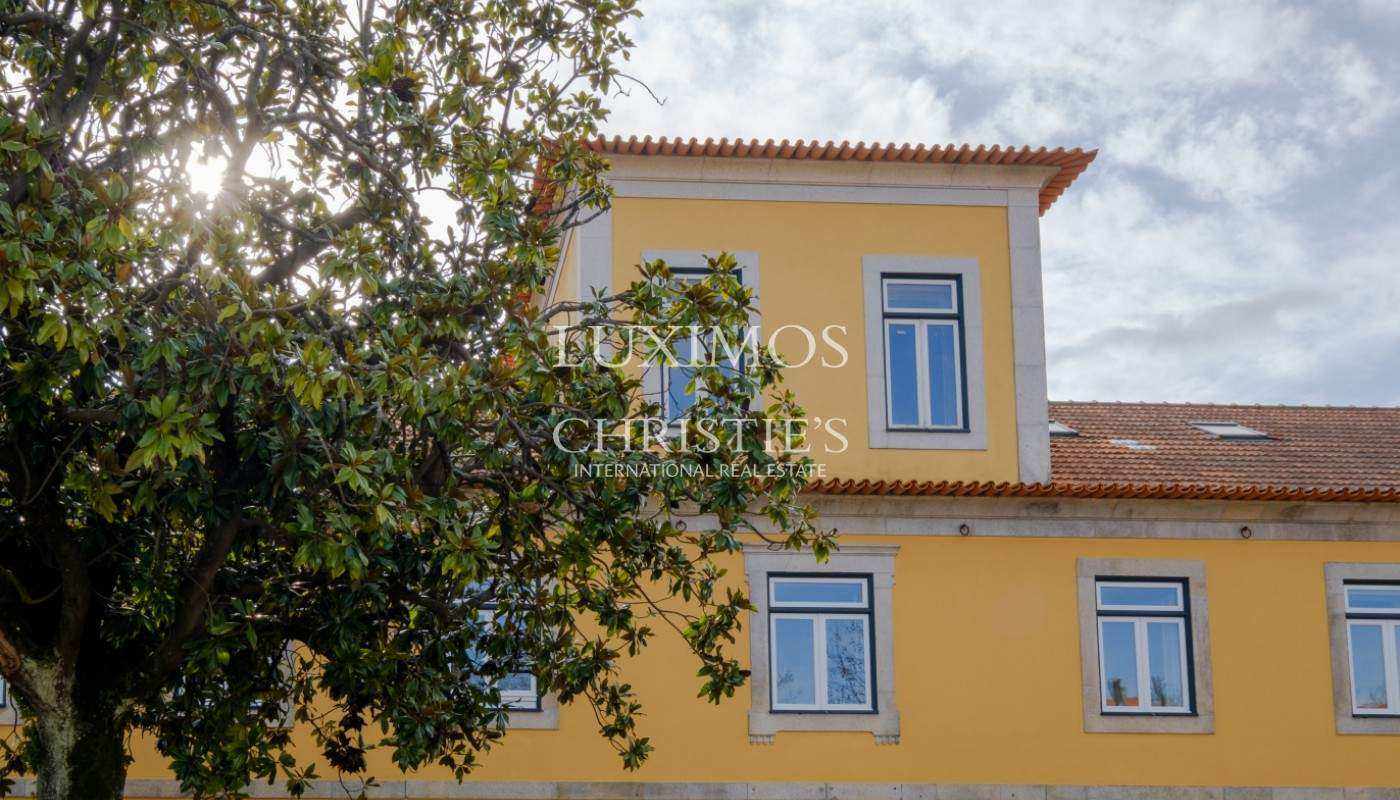 If Eduardo Souto de Moura is internationally recognized for the refined choice he always makes of materials in any work, public or private, here it could not be different. Thus, all rooms of all houses benefit from natural light and have solid afzelia wood flooring, tinned walls and plaster false ceilings. All woods have lacquered finishes, with the exception of the villas entrance doors, which are made of natural varnished wood.
The external frames of the new buildings are made of anodized aluminium (an environmentally friendly process), with thermal glass and a natural colour, while the frames of the recovered buildings are made of solid wood, keeping their original look.
In the townhouses, with green roofs and walls, the air conditioning is achieved through radiant floors with heat/water pumps and individual geothermal probes for each house. All of them also benefit from a video surveillance system.
This stunning work, marketed by LUXIMOS Christie's, will be completed in the second half of 2020.