The American magazine Forbes elected Portugal as one of the best countries in the world to live in. The Algarve real estate offer is decisive in this election.
Don't be surprised if, while walking around southern Portugal, you hear someone say - a Frenchman, an Englishman, a Brazilian or another - that they've known for a long time that, sooner or later, they would buy a house in the Algarve. It's perhaps the most repeated story: someone who came once on holiday, or at work, or to participate in a golf championship; someone who came in the summer, or in the winter that also looks like summer; someone who came alone or with friends; someone who came once and could never stop coming. Because then this person kept repeating the visit every year until the day he moved his bags and luggage with his family. There are many such stories. There are those who change their whole lives to come in the middle of their professional career, and there are those who wait for retirement, which currently has many advantages.
The Algarve has been Europe's solar paradise for many decades. And the existence of this golden rectangle has a decisive influence on the recent list published by Forbes, which elects Portugal as one of the seven best countries in the world to welcome foreign citizens who are looking for villas and apartments for sale to settle in Europe. The American magazine emphasizes the wide range of facilities that exist in Portugal to receive the right to residence or even citizenship. An example of this is the donation of 250,000 euros for the arts. Or the investment in a business. Or the creation of a certain number of jobs.
However, as the publication also points out, the easiest way to obtain residence and citizenship in Portugal is to invest in real estate. It's also the most tempting option, especially when you look at the apartments for sale in Vilamoura, Quinta do Lago or Vale do Lobo. Just invest 350,000 euros in a property over 30 years old - Almancil presents a lot of possibilities for this - or 500,000 euros in a new house like this ones in Tavira, and you're automatically qualified to claim Portuguese residence.
These offers are part of the Golden Visa programme, created by the Portuguese Government in 2012, but are far from exhausting the benefits of living in Portugal. So much so that there is a considerable percentage of foreigners who are content only to benefit from the luxury of buying a house by the beach, with sea views, garden and swimming pool, without claiming anything in return. Lagos, Portimão and Silves are among the most popular places. For those who allow themselves to be seduced by this territory, the real estate prices in Portugal, far below those in force in any other European country, are already enough benefit. The truth is that the list of privileges for those who move to the Algarve is long and worth getting to know. LUXIMOS Christie's International Real Estate has selected 12 compelling reasons to pack.
Portugal has one of the most advantageous tax regimes for non-habitual residents, pensioners, skilled workers and foreign investors. To put it mildly, between January 2017 and August 2018 alone, the number of non-habitual residents in Portugal increased by 83%. The French lead the ranking in obtaining this status. In general terms, the non-habitual residents regime allows benefiting from a special rate of 20% in relation to income from dependent, business and professional work. On the other hand, and provided certain requirements are met, it may benefit from IRS exemption for income earned abroad. Thus, many retirees have enjoyed completely tax-free pensions in both countries - in Portugal and in their country of origin. Anyone who is resident for tax purposes in Portugal and has not been considered or taxed as such for the last five years may benefit from this regime for a period of 10 years.
It became known as the Gold/Golden Visa, but in fact it is a residence and stay permit in Portuguese territory for an initial period of five years. The programme, which is aimed only at citizens residing outside the European Union or the Schengen area, aims to attract investment to Portugal. For this reason, there is one of three possible ways to obtain the visa: transfer capital of at least one million euros; create at least ten jobs or buy real estate of 500,000 euros. As we've already mentioned, the Algarve is, in this sense, the best place to invest. Confirm here. Afterwards, the investor can apply for a permanent residence permit or even for Portuguese nationality.
Portugal appears on all the lists of the most peaceful countries in the world, being always in the top places. In the ranking of the Global Peace Index 2019, an index that measures peace in 163 countries, and which is prepared by the Institute for Economy and Peace based in Sydney, Portugal is considered the 3rd safest country in the world. It rose one position in relation to the previous year and gradually 15 positions in relation to 2013. Among European countries, Portugal even rises to 2nd place, being surpassed only by Iceland. For you to have a point of comparison, Spain is in 32nd place on the list, having fallen three positions within a year, and France has fallen to 60th place. Outside Europe, a country like Brazil is in 106th place.
4. Cost of living
Hardly a foreigner will not be surprised at the cost of living in Portugal. It is possibly the only country in Europe where almost all standards of living are possible without having spent a lifetime raising money for it. This applies to housing, services, leisure and education. In order to have a basis of understanding, the Foundation for Science and Development (FCT) created a research project in which, after analysing multiple variables, it establishes the adequate income to live with dignity in Portugal. The amount required for a single person is less than 800 euros. A couple with a child would need less than 2000 euros. Or just think about this: in which country in the world is it possible to have coffee (and one of the best coffees in the world) for less than 1 euro?
5. Quality of life
Quality of life depends directly but not exclusively on the cost of living. Let us return from a scientific basis. For the World Health Organization (WHO), quality of life implies physical, mental, psychological and spiritual well-being, but also socialization, health, education, housing and security. In this sense, Portugal is once again at the top of all rankings, and the Algarve once again makes an important contribution to this. Let's take education and health as a reference. In Portugal, the supply of public and private education, with the teaching of all grades taught in several languages, is not comparable to almost any other country in Europe. Portuguese universities are present in all the world rankings of credibility and demand. In 2019, the University of the Algarve was ranked in the top 5.9% in the world and in 7th place at national level, according to the annual report of the Center for World University Rankings (CWUR). In terms of health, the Algarve has several private hospitals, but it's worth taking this note into consideration: in Portugal, even those with a lot of money do not dispense with the National Health Service. And perhaps this is its best certificate of quality.
6. Knowledge of other languages/Communication
There is no need to mention the time of the Discoveries to know that Portugal is a country of travellers. This will help explain the ease with which most Portuguese speak English, French or Spanish. Also for this reason, there are more and more foreigners choosing the country of Camões to live in. The adaptation period is almost non-existent. According to the Immigration, Borders and Asylum Report (RIFA), there are currently almost half a million foreigners living in Portugal. French, English and Italian are among the nationalities that have sought Portugal the most. According to the same report, around 60,000 of these people live in Faro, in the Algarve.
7. The Portuguese/Hospitality
A few years ago, Paul Luckman, director of Portuguese News, an English-language newspaper published in Portugal, decided to conduct a survey to find out why foreigners like him chose Portugal and especially the Algarve to live in. He moved there in 1968. He was interested in the answer in a specific universe: that of people with high-purchasing power. "When we asked them why they came to live here, the answer was not golf or the beach, but the Portuguese and this fantastic country", he said. In fact, the same answer was recently given by French designer Christian Louboutin. The passion of the creator of the famous red soles for Portugal is such that he decided to create a suitcase to honour the country. It's called Portugaba.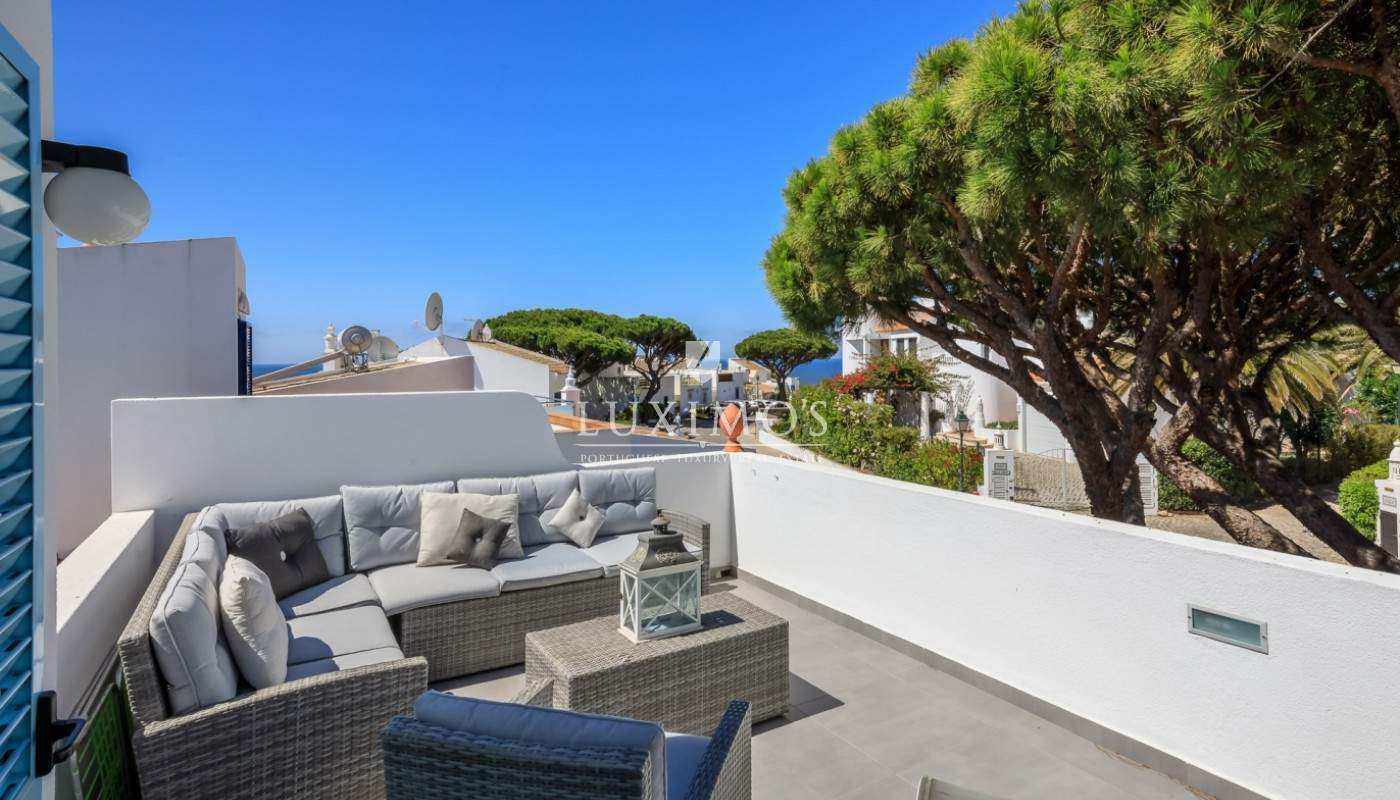 8. Quality of condominiums
Everything could be perfect in Portugal and, also due to the climate, particularly desirable in the south of the country. But if the quality of the construction and condominiums didn't match the advantages of the region's natural landscape, the charm wouldn't be the same. It so happens that luxury homes in Portugal, a country of world-renowned architects and designers, complete any family's dream. In the Algarve, there's no villa or apartment in which any detail is left to chance: privacy, views, finishes, private area and social area are privileged. Confirm here with your own eyes.
9. Climate
Of all the characteristics of the Algarve, its temperate Mediterranean climate is perhaps the one that least needs presentation. However, it's worth remembering that we're talking about more than 300 days of sunshine a year, almost no rain and endless days of light. It's more than ten hours of sunshine a day. In winter, the average temperature ranges between 15 and 20 degrees Celsius; in summer it rises to 30 degrees Celsius. It is one of the few places in Europe where it is possible to go to the beach in October, or even November. Always with mild water. And where it is possible to have outdoor life all year round, which contributes greatly to immense and vibrant nightlife.
10. Location/Airport
The Algarve has excellent connections to the rest of the country and the world. The airport, which is only 4 km from the city of Faro, welcomes about five million tourists every year. There are several airlines with regular connections to Europe, but also to countries on other continents. In addition, the whole country is served by a network of first-line motorways and highways. Spain is less than an hour away and you can easily reach Lisbon in two hours. There's also the European rail network, of which Portugal is also part.
11. Gastronomy
The fish caught in Portugal was recently considered by the world's most prestigious chefs as the best fish in the world. Moreover, the Portuguese, even by the long tradition of the sea, are specialists in cooking fish and seafood. And if there's a region to eat fish, it's the Algarve. But the traditional cuisine of the south of the country is not limited to seafood. Fresh vegetables and dried pulses are also often present in the kitchen. And olive oil and bread, accessories in so many parts of the world, play a central role here for their high quality. And then there are the region's most tempting sweets, made from eggs and nuts. Algarve sweets are also included in almost every list of those things we have to eat at least once in our lives.
12. Golf
What is best known, even for those who don't practice it, is left for the end: golf. The Algarve is the golf region par excellence. There are almost 50 courses designed by the best architects in the world, in absolutely idyllic settings. Many of these courses host international tournaments, such as the Portugal Open or the Portugal Masters. Among the most famous are Penina, considered the Mecca of golf in the Algarve, Quinta do Lago, located between the Atlantic and Ria Formosa, Vale do Lobo, with the famous hole 16 located on a cliff, and Vilamoura, designed by legendary American player Arnold Palmer.