The luxury real estate markets, with houses at the level of the best European standards and at attractive prices, make the Algarve the ideal place to invest.
No destination occupies as many pages of literature and collective imagination as paradise. Some people think that paradise is a legend; others, that it is a made-up place where everyone would live happily ever after; others, still, associate it to the first home of humanity, to a Garden of Eden that no one ever knows where it is. Some claim that paradise is in heaven, and some oppose it by saying that it is on earth. But, in essence, all theories refer to geographical impossibility. We are sure that paradise exists, it is on earth and has a name: it's called Algarve. It is a small part of the south of Portugal that allows you to make the choices motivated by the desire for happiness. For this purpose, it is decisive to find houses for sale in this place bathed by the Atlantic Ocean and to choose the property that meets our requirements the most. And even our extravagance. Once you find the villa or the apartment, it will be easier to believe that paradise exists. Because we have no doubts about this either: the window from which we see the world completely changes the world we see. Do you want to experience it from Vilamoura? Or Almancil?
The Algarve, with its 16 geographical possibilities (from Albufeira to Vila Real de Santo António), which correspond to specific virtues spread over more than one hundred beaches, remains immune to the natural disasters that have devastated the world. Hurricanes, earthquakes, floods, landslides have not happened in Portugal for almost 300 years, and even less so in this region, which is recognized for its golf resorts, green park blankets, blue sea sheets, endless golden sands and luxury condominiums. It's different to see the world from a secure garden, isn't it? Being in the pool drinking a daiquiri and not holding your heart in your hands, or being in a luxurious marina and having no fear of any fluctuation. That's what happens in the Algarve. Moreover, not only are there no natural disasters but there are also no human disasters.
Portugal has been one of the top three safest countries in the world for several consecutive years. Already this year it was also elected by a British travel agency and by the UK Foreign Office itself as one of the five most peaceful countries in the world to travel alone. The verdict is the result of a survey of residents of 142 countries, who answered questions about robberies, assaults and level of trust in police authorities. There is no paradise without security, and Portugal leads the way in security.
The real estate market as a decisive factor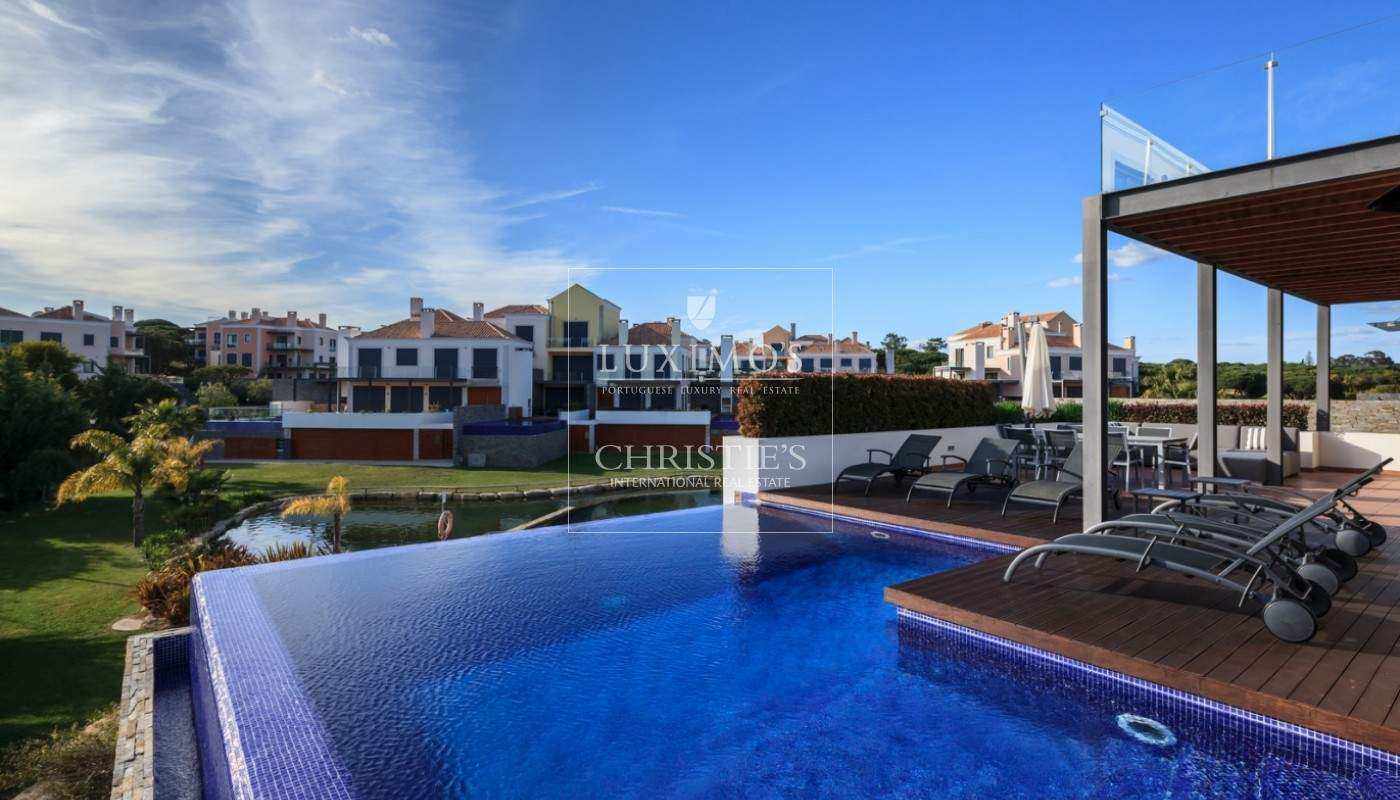 A cold, grey and rainy place may have its charms, but no, it's not paradise. Paradise involves us in a mild climate 365 days a year, has beaches with warm water (at more than 20 degrees of temperature), sunny terraces with stunning views, restaurants with mouth-watering delicacies and entertainment nights that invite you to go out and socialize in all seasons of the year. It is the place where we would like to settle or, at least, buy a holiday home. Or a plot of land on the seafront to quietly build a private paradise to enjoy our retirement.
The real estate market is the third key point of this Paradise Algarve. Because all the skills of the region would lose most of their value if it were not possible to combine their natural qualities and security with a construction that has always favoured comfort, glamour and tranquility. And, at the same time, openness to the world. It is not by chance that there are more than 250,000 foreigners living in the Algarve nowadays and, mainly, in the famous Golden Triangle.
The specimens of real estate properties that prove it are for sale in the best real estate agencies. A quick tour through LUXIMOS Christie's International Real Estate allows you to find houses like these villas in Vale do Lobo, close to golf, sea and tennis courts. Or, in a different style, these architectural jewels, located five minutes from Lagos. Or this stunning retreats, in an exclusive golf resort in Alvor, near Portimão. And all the houses have the added value of being close to Faro International Airport.
Do you still think paradise doesn't exist?