In 2024, the Birkin turns 40. But the Hermès bag is not just a handbag; it is a status symbol and a lifestyle statement. Discover the history of the world's most coveted fashion accessory.
By 1983, Jane Birkin, a stunningly beautiful English woman, was already famous, as a fashion model, actress and songwriter, and also known for her Haute-Hippie style and her free spirit. A left over from the collective counter-culture behaviour of the 1960s that was the hippie movement. The famously fringed sex symbol formed one of the most romantic couples ever with French musician, painter and poet Serge Gainsbourg (1928-1991). Their combined voices are immortalized in the ballad "Je t'aime... moi non plus", a song that was banned in Portugal during the Salazar dictatorship, because it was considered offensive – and even today, the song causes controversy all over the world.
In the early 1980s, by the age of 37, Jane Birkin already had a successful international career in independent film. She had married and divorced John Barry, English composer and arranger of the original theme song for the James Bond films; she had also fallen in and out of love with Gainsbourg; and had adopted the Parisian charm style as her daily dress code, which not only became iconic but also timeless. Jane Birkin was already all of the above and had therefore earned a place in the collective imagination of those who love cinema, music and fashion. At this time, the bags of Hermès, the French company founded in 1837 by Thierry Hermès, were still just bags.
Until one day in 1983, when Jane Birkin bumped into Jean-Louis Dumas (1938-2010), former President of the Hermès Group, on a scheduled flight from Paris to London. The millionaire businessman was settled in his seat when the girl, already elevated to the status of European muse, dropped a straw basket containing all her personal belongings. Dumas helped her regather each object and asked her: "What would the perfect handbag be for a woman like Birkin?" And she, a woman but also a mother, replied: "It would be four times bigger than the Hermès bag named after Grace Kelly. It could be used every day and even open-ended, to carry larger items." Dumas then challenged her to draw a sketch of this ideal handbag. Birkin accepted the request, using a pencil to draw on an airsickness paper bag. And thus unexpectedly, the first Birkin was born. A handbag that is not just a handbag, but a cult item made from the skin of rare Himalayan crocodiles.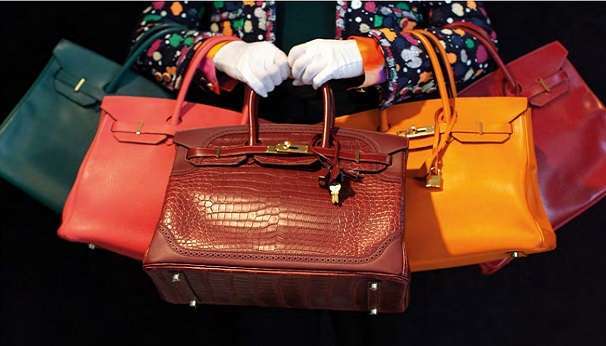 Officially created in 1984 and made out of leather and canvas, the Birkin has remained one of the world's most coveted fashion accessories for an astonishing almost 40 years. Anyone wishing to purchase one of its many original models has to be patient. First you have to be prepared to go onto a waiting list that can span over many months, or even years. You then have to be willing to pay a sum of money that varies between 10,000 and 35,000 euros. It is not possible to make the purchase via the brand's website, only in person, from one of the approximately 300 shops that can be found worldwide. Additionally, you have to prove that you have already purchased several other pieces from the brand, since Hermès does not allow a Birkin to be the first or only purchase of a client. Even if you happen to complete these three steps successfully, you are not guaranteed the bag will be of your chosen colour or material!
Some choose to buy a second-hand Birkin, but these handbags can sometimes fetch more than a new one. An example of this can be found from a sale held in May 2022 via the Vestiaire Collective platform. This trading portal for second-hand fashion items sold a Birkin Faubourg for no less than 158,000 euros. This impressive figure surpassed the previous record, which had been achieved six months earlier, also by a Birkin by Hermès. That handbag sold for 112,000 euros. Unsurprisingly, that is a record hotly contested by auction houses. The most expensive, encrusted with 245 diamonds, cost 267,000 euros and was sold by Christie's in Hong Kong.
There are three defining factors that distinguish a Birkin bag: it has to be big enough to carry everything you need; elegant enough to be used at a sophisticated party; and casual enough to be used on a shopping trip. In other words, a flexible bag that can adapt to any situation, eliminating the need for that endless swapping of handbags and their contents, a task that Jane Birkin didn't enjoy. Just as, or perhaps more importantly, all the bags are handmade by artisans who are required to attend a five-year training course. From here on out, everything is a secret. To this day, Hermès has never disclosed how many bags it produces each year, nor where it gets the raw materials to make them or how it achieves those unique colours.
However, not everything Birkin bag related is a bed of roses. Unlike most collectors, such as Kris Kardashian, for example, who had a bespoke wardrobe made to display all her Birkins, Jane Birkin says she has only ever had five or six Birkins in her life, and uses them until all the patches have worn out. In 2015, she demanded that Hermès remove her name from the handbag. This particular issue was a report by PETA (People for the Ethical Treatment of Animals), denouncing the violent killing of crocodiles, so that their skin could be used in luxury handbags. This was precisely the case with the Birkin bag – to make just one handbag you need the skins of three of these animals.
Birkin on animal protection
"Having been alerted to the cruel practices suffered by crocodiles during their slaughter for the production of the Hermès bags that bear my name, I have asked the Hermès group to rebrand Birkin until better practices are implemented that meet international standards," wrote the singer, then 68, in a statement that was disseminated worldwide. Almost ten years later, that still hasn't happened, because Hermès guaranteed that the problem was resolved: therefore, the Birkin remains the Birkin, an object that encapsulates several love stories and represents one of the most unattainable objects of desire in the world of luxury. Unattainable for some, because Victoria Beckham claims to have over 100.
Original release in LUXIMOS Christie's magazine | June 2023