Temporary stay visa and residence permit for remote workers can be required starting 30 October 2022
If you earn more than 2800 euros gross per month, want to live in the European Union and want to work remotely; if you are looking for a country with security and sun, which has some of the best beaches in the world and dream houses to buy, this text is for you. Portugal is preparing to launch a temporary stay and residence permit visa for digital nomads. The application for this new visa, which allows citizens from outside the European Union and the European Economic Area to work abroad while living in Portugal, can be made as early as 30 October. Just contact the Portuguese consulates or the Foreigners and Borders Service. The new law, published in Diário da República on September 30, will allow people to live in any Portuguese location for one year. The cities of Porto and Algarve are already among the most popular locations.
Related: Porto is one of the best cities in the world to live telecommuting
According to newspaper "Público", self-employed workers will have to hand in documents "certifying tax residence" and proof that their average monthly income over the last three months was more than four Portuguese minimum wages. In other words, a salary of around 2820 euros gross. If they work remotely for a company, the rules are the same, but they may present as proof the work contract, the promise of a contract or a statement from the employer proving the employment relationship. The new visas will facilitate the process of entry into the country for these workers. Until now, according to the "Bloomberg" news agency, there was no simple way for temporary residents to work remotely from the country. Previously, expatriates had to apply for a D7 visa, which was mainly aimed at pensioners.
Portugal thus joins a large group of countries - in Europe, Estonia started the ball rolling, followed by countries such as Norway, Georgia, Greece, Malta and the Netherlands; in South America, Brazil was the first country to set an example -, which more than two years ago provided a tool to regulate the temporary stay of the so-called digital nomads. Portugal arrives later, but with strong arguments. First of all, the effectiveness of broadband.
In a study commissioned by the European Commission (EC), which assessed the availability of broadband networks by member countries, Portugal was placed in an excellent position. The EC report says that "in Portugal, fixed broadband networks are above the European Union average and that 99.7% of Portuguese homes have access to at least one fixed network. The study also states that "Portugal has made a greater investment in fibre optics, so this strategy means that Portugal registers a greater availability of fibre compared to other countries." Of course Portugal has many other virtues for those looking to move to beautiful and safe places, with a lower cost of living, which we have already told you about here or here, but for a remote worker, without quality internet (that is to say, fast), nothing else exists.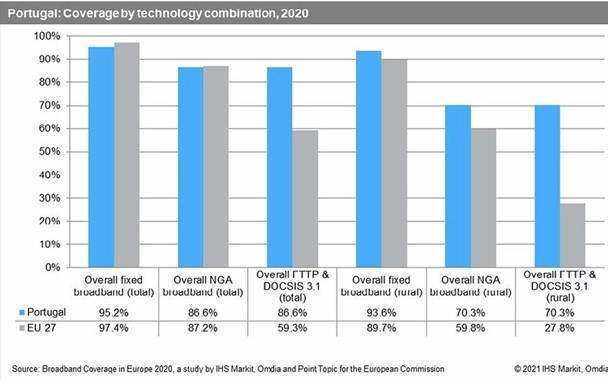 As companies offer work flexibility, more and more entrepreneurs are entering this new wave. The stories are multiplying, as told recently by "The New York Times", which even gives a number: very soon, more than half (51%) of the considered "knowledge workers" worldwide will be digital nomads. If Portugal leads the ranking of the best destinations for digital nomads, the city of Porto, with all its vibrant cultural life and its competitive real estate market, (check it out here), appears very well ranked to welcome LGBTQ+ people, foreigners and women. "In the second quarter of this year 2022, 10,800 digital nomads arrived in Porto, a new record, corresponding to an average of 3600 arrivals per month," the weekly newspaper "Expresso" reported, citing data from InvestPorto, the Porto City Council's investment platform. With the visa simplification, the city, which has 230,000 inhabitants, expects to receive even more visitors in 2023.
Related: Demand for beach houses soars in the North of Portugal
Everything indicates that the possibility of setting up an office with your feet in the sand is a path with no return. That's why the whole world, from companies to brands to real estate agencies, is trying to adapt to this new reality. Attentive, Airbnb, for example, according to "The New York Times", has already created a programme called "Live and Work Anywhere", which consists of a network of partnerships with various countries and the creation of personalized digital hubs with useful information, such as visa requirements, tax policies and a list of the best houses to live in. As a matter of fact, Airbnb employees themselves can now live and work in more than 170 countries, and can stay up to 90 days a year in each of those locations.
"Remote working is the destination where everyone wants to go," wrote Airbnb co-founder Brian Chesky in an email to workers. "The right solution should combine the best of the digital world and the best of the physical world," he added, revealing a figure: in the second quarter of 2022, long-term stays (28 days or more) on Airbnb increased by almost 25% compared to 2021 and almost 90% compared to 2019. Now, it just remains to be seen how Portugal will revolutionize this trend.
Related: Investments in the real estate market in times of COVID-19