Gaia has the first heated seawater pool in Portugal. The new space, on Canide beach, is the best option for those who don't want to give up the summer just yet.
Everything was as it had to be. We still have the days of sun on our skin and, inside, the batteries already recharged for the rentrée and for the new pages of life that will be written. But if the forecasts of the Portuguese Institute of the Sea and Atmosphere (IPMA) indicate that summer may last until October, with temperatures above 20 degrees, there's no reason why we can't enjoy this bonus, especially if we can benefit from it close to
home
. How? Swimming pools with sea water are the shortest way to blur the nostalgia of happy days spent at the beach and to postpone diving in the winter. Until recently, there was no such possibility in Portugal, but now it already exists. The first Portuguese
pool
with heated seawater was inaugurated this summer, it is free to access and is located on
Canide beach
, on a huge sandy beach, between the bars Grão de Areia and Ar de Mar, in
Vila Nova de Gaia
, a city that has been scoring points for those looking for a perfect geographical location in the
Porto
district to
buy a house
.
Related Article: Vila Nova de Gaia in the Top 10 best cities to live in
The pool is generously sized (20 metres X 25 metres), but only one metre deep, so it is suitable for children, the elderly and people with reduced mobility. Unlike seawater, which is especially cold in the North of Portugal, due to the typical northerly winds in this region, this water is heated by means of solar panels, providing a temperature that oscillates between 28 and 29 degrees centigrade, in a completely sustainable environmental project. On the other hand, this equipment is permanently monitored, reducing any concern, it has support tents and control of people entering and leaving, avoiding confusion. In other words, this new pool is open everyday, from 9.30am to 7.30pm, entry is by order of arrival, and it's never possible to have more than 50 people in one pool, so as not to spoil the experience. Each person has a maximum stay in the water of 30 minutes.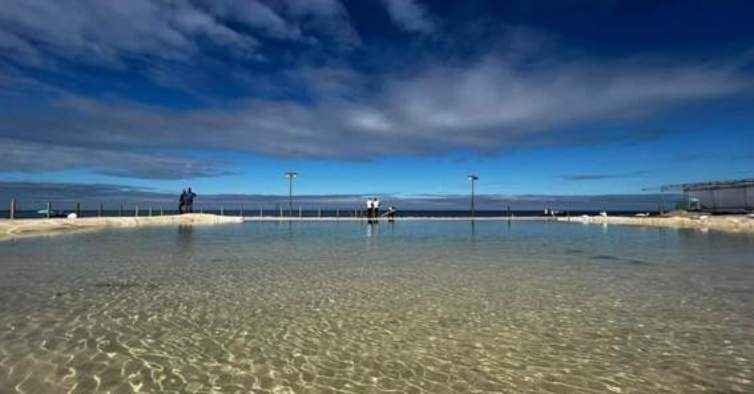 Thus, the municipality of Gaia, which already has the best views of the Douro River, which is an unavoidable stop to visit the Port wine cellars, and which will soon have a TGV station, making life easier for those looking to buy a house or flat there - construction in this city is distinguished by luxury condominiums with stunning river and sea views - has just added another asset to its set of virtues, which serves to consolidate its position on the list of the 10 best cities to live in. It's not just about extending the summer, but also about taking care of your health, investing in quality of life.
Related Article: Gaia gains another asset: in 2026 it will have a TGV station
Furthermore, the Canide beach pool, being a pioneer due to its characteristics, is not the only one in this area. Granja beach, which has been a cult destination for the families of the Portuguese upper bourgeoisie and aristocracy since the end of the 19th century, also has a saltwater pool. In fact, there are two pools, both set right on top of the sea (the larger one is 25 metres X 16.6 metres wide; and the smaller one is 16.6 metres X 9 metres wide). Neither of them is free (entry costs between 4 and 6 euros, for the whole day), but the ticket gives access to towels, sun loungers and parasol. The only difference is that the water is not heated.
Related Article: Vila Nova de Gaia: buying a house with a sea view next to the beach
LUXIMOS Christie's International Real Estate, a real estate company focused on the premium market, suggests six more outdoor pools located in what is called Grande Porto, whose setting in the landscape can help you decide where you want to live or invest in real estate, always taking into consideration a luxury, healthy and happy life. In all these places there are properties for sale, including several private condominiums. Take a look at the new developments here.
1. Piscina das Marés, in Leça da Palmeira
It's impossible to talk about pools without mentioning the mythical Piscina das Marés, the work of Álvaro Siza Vieira, the most respected and awarded Portuguese contemporary architect of all time, which opened in 1966. Over half a century old, this beautiful and visionary facility, which has been classified as a National Monument since 2011, is the finest example of perfect integration into the coastal landscape. Located on Leça da Palmeira beach, in the municipality of Matosinhos, this complex consists of two saltwater swimming pools, one just for adults and the other, smaller, for children, with changing rooms and a bar. It is open every day, between 9am and 7pm, and the price of tickets varies between 4.50 and 7 euros.
2. Piscina da Quinta da Conceição, in Leça da Palmeira
Incredible as it may seem, a year before designing Piscina das Marés, Álvaro Siza Vieira, who would go on to win the Pritzker Prize in 1992, designed the first pool on the farm that once housed the Nossa Senhora da Conceição Convent, in Leça da Palmeira. Open to the public since 1965, after undergoing some transformations designed by the architect Fernando Távora, the Quinta da Conceição swimming pool is open every day and prices vary between 4 and 8 euros. The surroundings are so beautiful - full of gardens, fountains, sculptures, nooks and crannies, chapel, picnic area and even two tennis courts - that a visit is a must.
3. Piscina Verde of the urban park, in Paredes
Inaugurated in 2021 in the heart of the urban park of Paredes, in the district of Porto, this outdoor pool has eight lanes, a children's pool, changing rooms, bar, terrace, access to sun loungers, parasols and chairs for people with reduced mobility, and is monitored by a lifeguard. Besides the normal leisure activities provided by these facilities, the pool, which has a capacity of 188 people, is also available for competition activities. It is open every day between 9am and 8pm, and normal tickets cost 3 euros. Children (over six years old) and senior citizens pay only €1.50.
4. Piscina da Quinta da Gruta, in Maia
It is far from the city, 15 minutes away from Porto, immersed in the green scenery of Quinta da Gruta, which houses a romantic palace from the beginning of the 20th century, in Maia, that you can find the municipal swimming pools integrated in the Quinta da Gruta Sports Complex. It is an idyllic space with 22 thousand square metres, perfect for spending the whole day. Apart from the pools, which are open every day between 9am and 7pm (tickets cost 2 euros), there is also an amphitheatre, an environmental documentation centre, two tennis courts and a cycle track. All the rest are gardens, pedagogical gardens and nurseries, which you really want to visit.
5. Piscinas do Solário Atlântico, in Espinho
Directly fed by sea water, the two swimming pools of the Solário Atlântico, in Espinho, are framed in a scenery of rare beauty. Designed by the architects Eduardo Martins and Manuel Passos, the swimming pools are open every day during the bathing season. The ticket costs 3 euros and gives access to the bar, as well as to changing rooms, sun loungers, parasols and lockers. In this same space there is also a thalassotherapy centre, an ancient technique dedicated to the promotion of health and physical and mental well-being, through salt water and marine climate, a healthclub with sauna, massage rooms, Jacuzzi, weight-training room and gym.
6. Piscinas Foz do Cávado, in Esposende
A little further away, about 40 minutes from Porto, Piscinas Foz do Cávado, in Esposende, just a few minutes from the Estela golf course and Ofir beach, more than justify the trip. The indoor pool has heated water and has waves; the outdoor pool has salt water, river views and a space just for children. It is open every day during the bathing season, with tickets costing around €4.50.