Discover what distinguishes the nine best areas of Porto and follow the real estate offer from Downtown to Foz.
Monocle, the bible of global trends, describes Porto as one of the best cities in the world to live in. Everything that already seems difficult to achieve in most medium-sized European cities is still possible in Porto: living in the centre, buying a luxury house with large areas and quality finishes, enjoying river or sea views and a safe and quiet environment. In short, having quality of life. So, make no mistake if you think that cities are no longer made with families in mind. Porto has rejuvenated, grown and is more and more the city of choice for foreigners to buy a house.
Proof of this is that the most recent issue of Monocle magazine, considered the bible of world trends, describes Portugal's second largest city as a kind of oasis: "it's a cosmopolitan centre, where life is not excessively expensive and where people are not overburdened by work". In other words, it's a place to live and make dreams come true, the magazine concluded after interviewing some people, including new residents who left London, Lisbon and Paris for Porto.
The publication, which is dedicated to quality of life and luxury and, therefore, dictates global fashions, praises Porto's social, economic and cultural environment, as well as leisure and especially housing options. For the magazine created by guru Tyler Brûlé, marketed in 60 countries, Porto represents the perfect marriage between urban life and people who want to live well. This means, the magazine stresses, benefiting from a growing economy and an international cultural offer throughout the year.
For those who are looking for the best place to live in Porto, we've drawn up a list of nine different areas of the city and the respective real estate offer to help you. We privileged aspects such as the quality of construction, the proximity of beaches, leisure and services, accessibility and traffic, green spaces, security and neighbourhood.
1. Villas in the traditional neighbourhoods of Foz do Douro
Since the 19th century, Foz do Douro has been the bourgeoisie's favourite place to buy a holiday home - and this can still be seen today. There are still the best houses and palaces on the front line of the beach, but also the best neighborhood grocery stores. Foz is, therefore, the perfect place for those who favour tradition and good neighbours. Over time, it has also become an area favoured by services. And today it's the place where some of the city's best schools are located, which makes it particularly attractive for families with children. In addition, everything there is handy within one kilometre, including leisure areas such as tennis courts, paddle courts and gymnasiums. More recently, and unlike for many years, there has been a wave of new luxury construction. Right there, in front of the sea. These new apartments for sale in Foz do Douro have a big common denominator: security, proximity to the beach and to people, sun exposure, innovative architecture of private condominiums and meticulous interior design. And they also have the advantage of being one step away from Serralves Museum of Contemporary Art and the requalified Parque da Pasteleira, which prevails as a kind of city's secret.
2. Apartments with river view in Lordelo do Ouro
It is not possible, or at least not advisable, to buy an apartment in Porto without first walking calmly through the parish of Lordelo do Ouro. The privileged location of the properties - most of which have a clear view of Douro River - is the first factor that stands out. Anyone looking for a house with a river view must necessarily pass through here. Just look around to see the potential of the balconies and terraces of the apartments and villas. What's more, because it's halfway between Foz and Ribeira, it doesn't have the popularity of any of these areas, which makes it much quieter at the weekend. But Lordelo do Ouro has other peculiarities that make it one of the best places to live in Porto: it's perhaps the place in the city that is closest to everything without having to go through the traffic streets. In less than ten minutes you can reach the beach and Downtown. And in two minutes, the highway. If in terms of accessibility it's unbeatable, there's another detail that makes it very special: there's a tram and a boat at the door. Both are mainly used by tourists, but nothing prevents a resident from crossing the river in Flor do Gás, the small boat that transports people to Afurada for just two euros, or riding on the historic, rare and remodeled tram. No less important is the corridor of old taverns with fado and fresh fish every day. Adega da Piedade, where you can eat pataniscas to the sound of fado vadio - and which has already revealed Portuguese artists like Gisela João - is repeatedly elected by the international press as one of the best typical places in the world. The list of advantages is endless, but we point to just one more: Jardim Botânico, once home to the Portuguese poet Sophia de Mello Breyner, and today a wonderful place to spend long hours among all kinds of plants.
3. Luxury condominiums in Boavista
Boavista is crossed by an avenue six kilometres long, so the only difficult task is really choosing just one house in the middle of the number of luxury condominiums that go from the roundabout to the City Park. But this is also one of the best areas of villas for sale in Porto. This is where you find those houses of enviable architecture, with huge secret gardens in the back, façades with the typical tiles of Porto, stained glass windows and skylights indoors, spacious kitchens, lounges with dream floors and swimming pools surrounded by large lawns. If you want to buy a new villa in Porto, you can find it here. It is also worth looking for the well-preserved villas, which were designed with the rigour and detail of other times. This crucial part of the city is exemplarily served by commerce, schools, services, transport and cultural supply. And Casa da Música is right there in the centre. It also has the advantage of having a bicycle lane and being just a small step from Matosinhos Sul, close to the sea and beach restaurants.
4. New developments in the heart of Downtown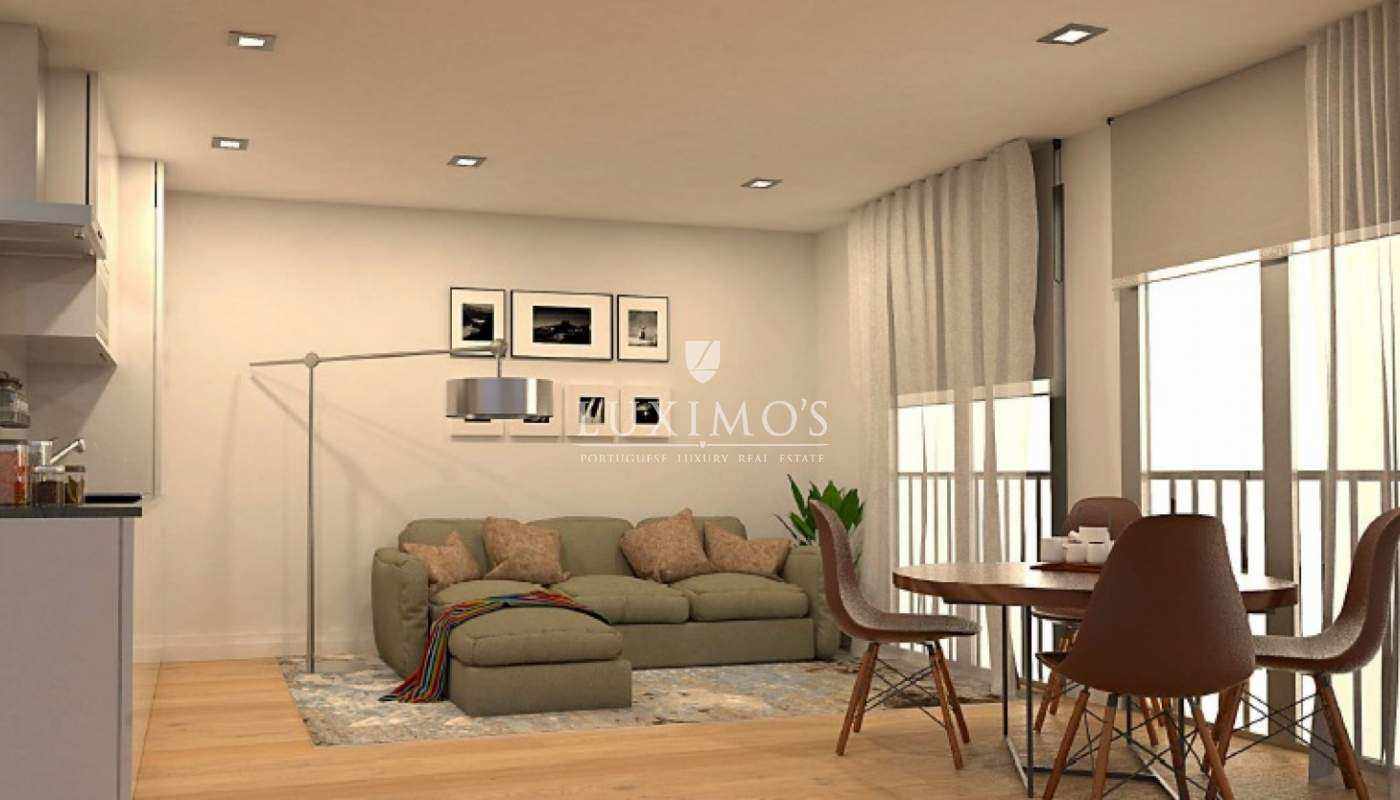 Anyone who appreciates the cosmopolitan, cultured and bustling life of the city centre, or who likes to get in and out of the house without car or transport, or who doesn't go without talking and having a drink on the street will fall madly in love with the new developments Downtown Porto - the place where everything happens. It is possible to find 3-bedroom apartments or even 4-bedroom apartments Downtown Porto, but the heart of the city is mainly for those looking for real estate properties with a different concept. As we have already explained here, the trend is towards smaller apartments that do not spare either luxury or comfort. In this segment, the real estate menu is absolutely exciting. The number of new developments that have emerged, privileging both indoor and outdoor areas, shows that living Downtown does not only mean living in the centre of animation, but above all having an enormous quality of life. It should be noted that the best restaurants in the city have all moved here, or opened a second space here. And this is where Café Majestic, Lello Bookstore, Paris Galleries, Trindade Cinema, Rivoli Theatre and, like the icing on the cake, the indescribable Passeio das Virtudes live.
5. Spacious houses in Bonfim
As Porto is a small town, which you can almost walk through on foot – we're talking about 40 kilometres spread over seven parishes and less than 240,000 inhabitants –, it is normal that the heritage is spread throughout the territory and that there is an expansion of real estate opportunities. Bonfim, which extends to the banks of the Douro River, is the best example of a parish contaminated by the cosmopolitanism of Downtown. It is close to everything, namely the pedestrian street Rua Santa Catarina and the traditional Mercado do Bolhão, but with the addition of having an unusual tranquility. It's ideal for large families looking for spacious houses, for those who like to use public transport and for those who don't like noise. It also has the advantage of being close to the train station and very close to the exit to Porto International Airport. It should be noted that Porto is now served by the main flag companies, such as Turkish, Canada, KLM, United, TAAG, Swiss, Lufthansa, Air France and, more recently, Emirates.
6. Investment opportunities in Campanhã
With a huge and growing concentration of spaces dedicated to the arts, Campanhã is the new fashion place and, currently, one of the best places to invest in the city of Porto. Proportionally, it is one of the places with the greatest potential for appreciation in the medium and long term. Therefore, it is one of the best bets in the real estate sector. With excellent accessibility and close to the Metro, it is one of the parishes where it is possible to buy large plot land at small prices. LUXIMOS Christie's has in portfolio plot land with approved projects for construction of villas for turnkey delivery. And it's really worth understanding what it's all about: 300 m2 houses, garden and swimming pool.
7. Business opportunities in Marginal do Freixo
It's almost a mystery to understand that the magnificent Marginal do Freixo, which connects the historic centre to Freixo, doesn't have enough new construction for housing. Unbeatable for tourists - it has a marina, an unbelievable view over the city and gives access to the D. Luís Bridge, to the Douro Cellars and to Ribeira -, this area, of a beauty that is worth in itself, is a unique opportunity for those who want to invest in hotels.
8. Quality of life in the beach houses of Gaia
For a long time, Vila Nova de Gaia was known only for hosting the Port Wine Cellars. Afterwards, it was also known for the quality of its beaches. As a matter of fact, it is the second municipality in the country with more beaches with blue flags. Later, Gaia was praised for its amazing bicycle lane: 14 kilometres connecting the city to Espinho, in an almost entirely seaside route. The marina, which overlooks the Douro, and the requalification of Afurada were added. Fresh fish restaurants have multiplied, which makes perfect sense in a land of fishermen, bars, terraces and five-star hotels. And suddenly Gaia is no longer just a balcony for Porto used by tourists and has become the living room where many want to live. The city's development and landscape contribute to this, but the change is mainly due to the transformation of the real estate sector. Gaia is not a dormitory for those who live in Porto, it's a luxury housing centre that concentrates some of the most breathtaking houses in the region with sea and river views and certainly some of the best luxury private condominiums. Living in Gaia is having a unique quality of life in an urban space. And living daily with the sea smell and the sunset, D. Luís Bridge and Serra do Pilar, and a superb view over Porto.
9. Top architecture in Matosinhos Sul and Leça
Queen of architecture, gastronomy, surfing and jazz, Matosinhos Sul concentrates such a large number of such appetizing virtues that it almost seems a lie. But it's not. And that's why more and more people are looking for a home in this city, accessed through the extraordinary and multi-award winning sculpture by the artist Janet Echelman called "She Changes", to then find a magnificent waterfront designed by architect Pritzke Eduardo de Souto Moura and, further on, already in Leça da Palmeira, a saltwater pool designed by other Portuguese Pritzker, Álvaro Siza Vieira. This alone would make Matosinhos a kind of city with a golden ticket. But there's more to justify the desire to live in Matosinhos. The apartments with a swimming pool in the first line of the sea, the proximity of the apartments in the City Park, the quality of the construction and a luxury menu that brings together everything we dream of having at our doorstep: kiosks, luxury cafés, beautiful terraces, the best restaurants, pharmacies, dozens of neighbourhood shops and a wonderful fish market.