Real Estate Development - New Apartments
Vila Nova de Gaia, Porto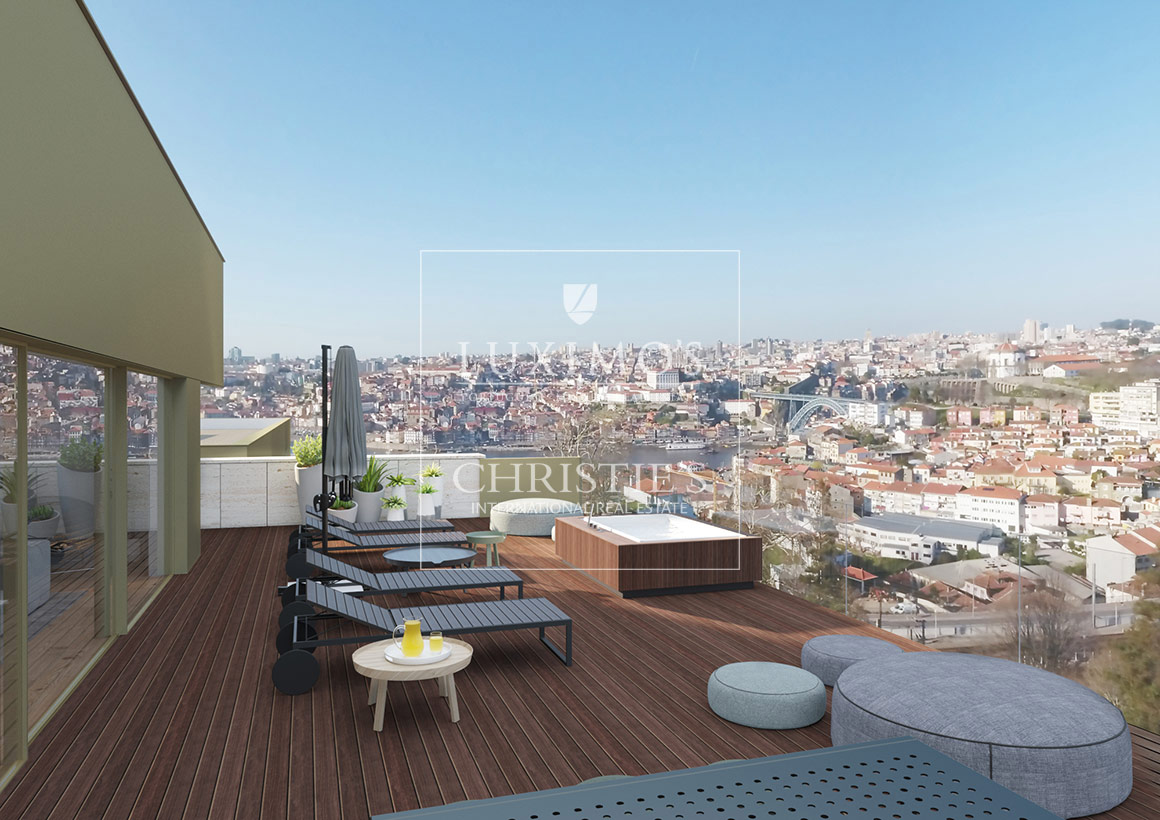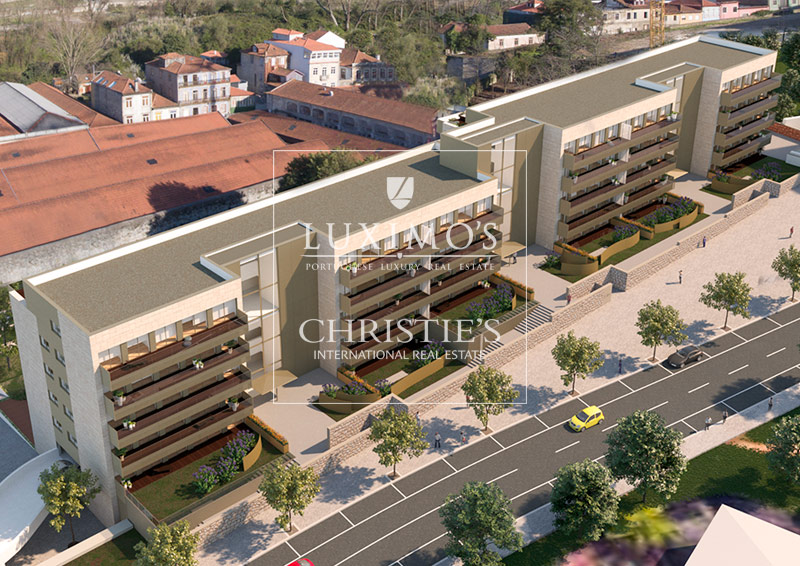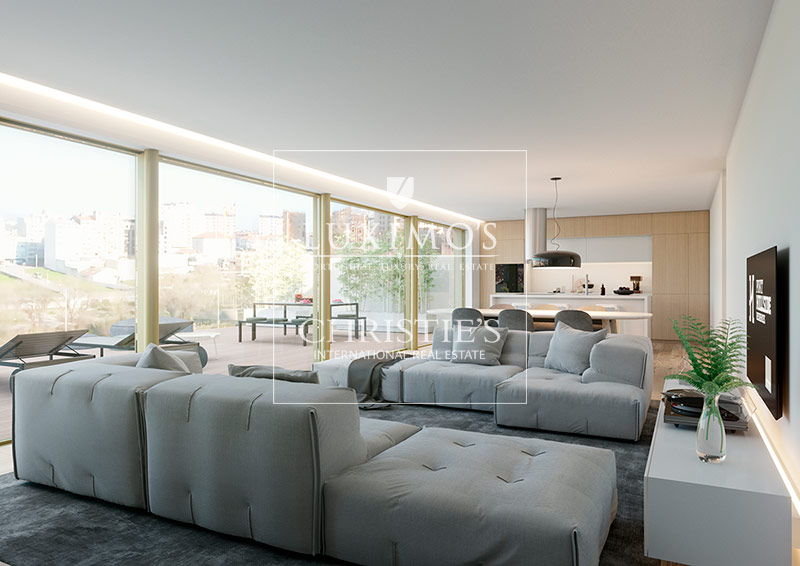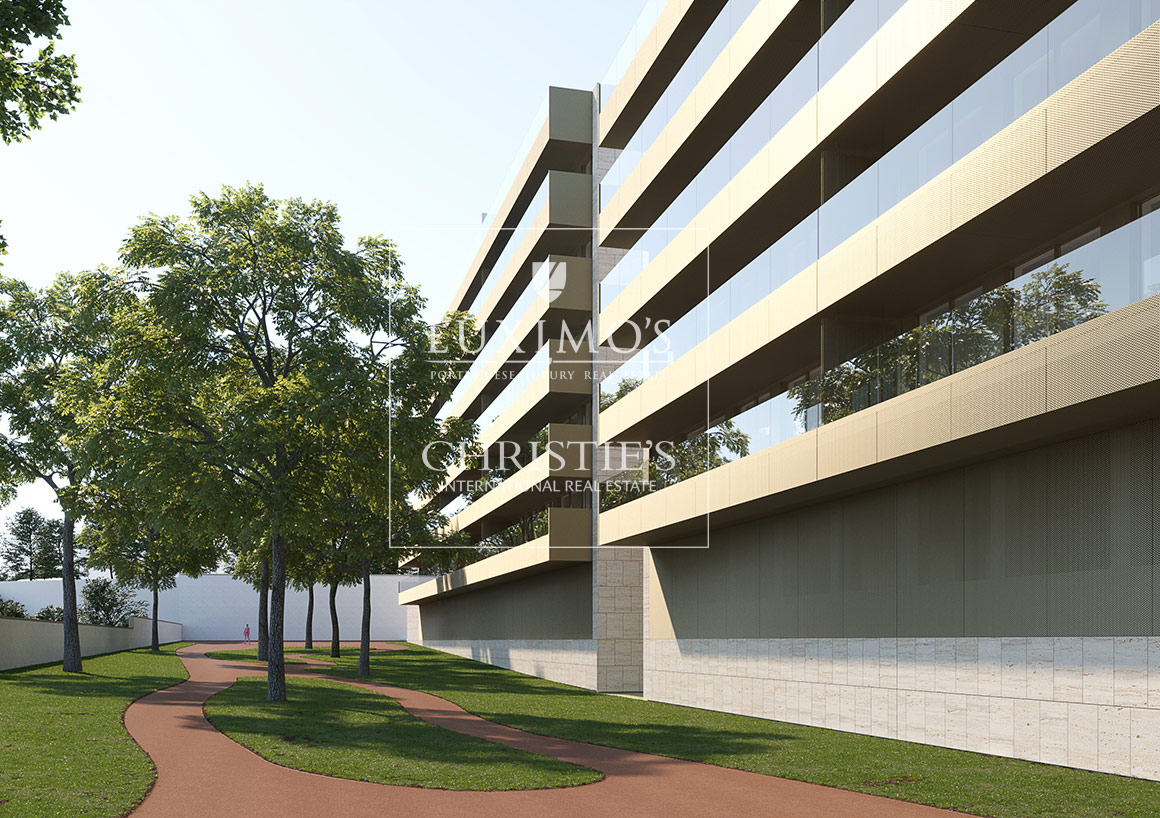 New luxury apartments, with river views, in Vila Nova de Gaia
Port Hillside Residence rises on the hillside of Vila Nova de Gaia and offers superb views over Porto and Douro River.
This is a perfect union between architecture, topography and landscaping.
The surrounding gardens, the recreational areas, such as jogging track, paddle court and playground, as well as the wide balconies facing east/west, allow you to enjoy a unique quality of life in an excellent urban space.
It consists of 3 blocks, in a total of 65 fractions: 2-bedroom, 3-bedroom and 4-bedroom apartments.
Spacious areas, luxurious finishes, high-quality materials and attention to detail characterize this development.
Prime location near the waterfront and the iconic D. Luís Bridge, close to the main services, roads and commercial offer.
Ready by the end of 2019.
BLOCK A

| Ref. | Apartment | Area (sq. m) | Balcony (sq. m) | Floor | Garage | Price |
| --- | --- | --- | --- | --- | --- | --- |
| LS02533 | T3 | 147.25 | 27,55 | 0 | 2 | 437 000 € |
| LS02534 | T2 | 82.80 | 16,93 | 0 | 1 | 249 325 € |
| LS02535 | T3 | 138.15 | 28,21 | 0 | 2 | 415 900 € |
| LS02536 | T3 | 138.55 | 27,80 | 1 | 2 | 552 420 € |
| LS02537 | T3 | 140.80 | 27,55 | 1 | 2 | 441 919 € |
| LS02538 | T2 | 82.80 | 16,93 | 1 | 2 | 261 791 € |
| LS02539 | T3 | 138.15 | 28,21 | 1 | 2 | 436 695 € |
| LS02540 | T2 | 115.82 | 22,80 | 1 | 1 | 363 876 € |
| LS02541 | T3 | 138.55 | 26,90 | 2 | 2 | 455 980 € |
| LS02542 | T3 | 140.80 | 27,55 | 2 | 2 | 463 973 € |
| LS02543 | T2 | 82.80 | 16,93 | 2 | 1 | 274 856 € |
| LS02544 | T3 | 138.15 | 28,21 | 2 | 2 | 458 488 € |
| LS02545 | T2 | 111.52 | 21,91 | 2 | 1 | 367 733 € |
| LS02546 | T3 | 138.55 | 26,90 | 3 | 2 | 478 812 € |
| LS02547 | T3 | 140.80 | 27,55 | 3 | 2 | 487 205 € |
| LS02548 | T2 | 82.80 | 16,93 | 3 | 1 | 288 619 € |
| LS02549 | T3 | 138.15 | 28,21 | 3 | 2 | 481 446 € |
| LS02550 | T2 | 111.52 | 21,91 | 3 | 1 | 386 146 € |
| LS02551 | T3 | 138.55 | 26,90 | 4 | 2 | 502 803 € |
| SOLD | T3 | 140.80 | 27,55 | 4 | 2 | SOLD |
| LS02553 | T2 | 82.80 | 16,93 | 4 | 1 | 303 079 € |
| LS02554 | T3 | 138.15 | 28,21 | 4 | 2 | 505 568 € |
| LS02555 | T2 | 111.52 | 21,91 | 4 | 1 | 405 494 € |
| SOLD | T4 | 187.85 | 26,75 | 5 | 3 | SOLD |
| SOLD | T4 | 172.55 | 21,79 | 5 | 3 | SOLD |
BLOCK B

| Ref. | Apartment | Area (sq. m) | Balcony (sq. m) | Floor | Garage | Price |
| --- | --- | --- | --- | --- | --- | --- |
| LS02558 | T3 | 140.80 | 27,55 | 0 | 2 | 420 875 € |
| LS02559 | T3 | 140.80 | 27,55 | 0 | 2 | 420 875 € |
| LS02560 | T2 | 115.82 | 22,80 | 1 | 1 | 363 876 € |
| LS02561 | T3 | 140.80 | 27,55 | 1 | 2 | 441 919 € |
| LS02562 | T3 | 140.80 | 27,55 | 1 | 2 | 441 919 € |
| LS02563 | T2 | 115.82 | 22,80 | 1 | 1 | 363 876 € |
| LS02564 | T2 | 115.82 | 22,02 | 2 | 1 | 379 887 € |
| LS02565 | T3 | 140.80 | 27,55 | 2 | 2 | 463 973 € |
| SOLD | T3 | 140.80 | 27,55 | 2 | 2 | SOLD |
| LS02567 | T2 | 111.52 | 21,91 | 2 | 1 | 367 733 € |
| SOLD | T2 | 115.82 | 22,02 | 3 | 1 | SOLD |
| LS02569 | T3 | 140.80 | 27,55 | 3 | 2 | 487 205 € |
| LS02570 | T3 | 140.80 | 27,55 | 3 | 2 | 487 205 € |
| LS02571 | T2 | 115.82 | 21,91 | 3 | 1 | 398 591 € |
| LS02572 | T2 | 115.82 | 22,09 | 4 | 1 | 419 108 € |
| LS02573 | T3 | 140.80 | 27,55 | 4 | 2 | 511 616 € |
| SOLD | T4 | 172.55 | 21,79 | 4 | 3 | SOLD |
| SOLD | T4 | 172.55 | 21,79 | 5 | 3 | SOLD |
BLOCK C

| Ref. | Apartment | Area (sq. m) | Balcony (sq. m) | Floor | Garage | Price |
| --- | --- | --- | --- | --- | --- | --- |
| LS02576 | T2 | 115.40 | 22,80 | 0 | 1 | 362 775 € |
| LS02577 | T3 | 138.15 | 28,21 | 0 | 2 | 436 695 € |
| LS02578 | T2 | 82.80 | 16,93 | 0 | 1 | 261 791 € |
| LS02579 | T3 | 140.75 | 27,55 | 0 | 2 | 441 788 € |
| LS02580 | T3 | 138.65 | 27,80 | 0 | 2 | 436 931 € |
| LS02581 | T2 | 115.88 | 22,02 | 1 | 1 | 380 052 € |
| LS02582 | T3 | 138.15 | 28,21 | 1 | 2 | 458 488 € |
| LS02583 | T2 | 82.80 | 16,93 | 1 | 1 | 274 856 € |
| LS02584 | T3 | 140.75 | 27,55 | 1 | 2 | 463 835 € |
| LS02585 | T3 | 138.62 | 26,90 | 1 | 2 | 456 173 € |
| LS02586 | T2 | 115.88 | 22,02 | 2 | 1 | 399 083 € |
| LS02587 | T3 | 138.15 | 28,21 | 2 | 2 | 481 446 € |
| LS02588 | T2 | 82.80 | 16,93 | 2 | 1 | 288 619 € |
| LS02589 | T3 | 140.75 | 27,55 | 2 | 2 | 487 060 € |
| LS02590 | T3 | 138.62 | 26,90 | 2 | 2 | 479 015 € |
| SOLD | T2 | 115.88 | 22,02 | 3 | 1 | SOLD |
| SOLD | T3 | 138.15 | 28,21 | 3 | 2 | SOLD |
| SOLD | T2 | 82.80 | 16,93 | 3 | 1 | SOLD |
| SOLD | T3 | 140.75 | 27,55 | 3 | 2 | SOLD |
| SOLD | T3 | 138.62 | 26,90 | 3 | 2 | SOLD |
| SOLD | T4 | 172.55 | 21,79 | 4 | 3 | SOLD |
| SOLD | T4 | 187.85 | 26,75 | 4 | 3 | SOLD |